For those not familiar, in September of 2009, an invasive, toxic algae bloom occurred that killed 99% of all fish in my local smallmouth and musky creek: Dunkard Creek. The saltwater algae was only able to thrive because of the excessively high conductivity and chlorides being discharged from the Blacksville #2 mine (and possibly other sources). Since then, Consol, the mine operator, was fined heavily by the WVDEP and USEPA, and was also required as part of the settlement to build a multi-million dollar treatment system to ensure future water quality protection.
Its been about 3 years now since the fish kill, and knowing that the toxic conditions were not long-lived, even though they were quite bad, I was expecting that many fish were starting to repopulate naturally from the unaffected tributaries. Evan Fedorko and I had heard reports of the bass and musky fishery returning to Dunkard from other sources, and Evan asked me if I wanted to accompany him on a evening trip. Since I had been wanting to fish Dunkard myself, I quickly made plans to join him.
I thought back to all the great fishing I had experienced on the creek before the kill. It was probably most sought out by musky anglers, and this was the first place I really ever fished for them. I had some luck catching a few including this fish, a 39" beauty.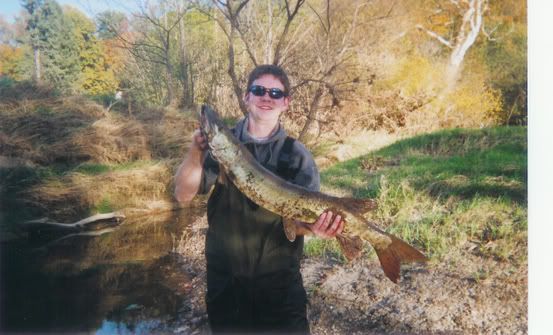 Even with the potential to catch musky, I always enjoyed the smallmouth fishing most I believe. There weren't a lot of smallmouth present, but the majority of the ones I caught were over 12" with the average size usually around 14". My buddy Adam caught this 17-18" lunker the same night I caught the musky above. He hooked it on a 6.5" jointed crank bait, while pursuing musky.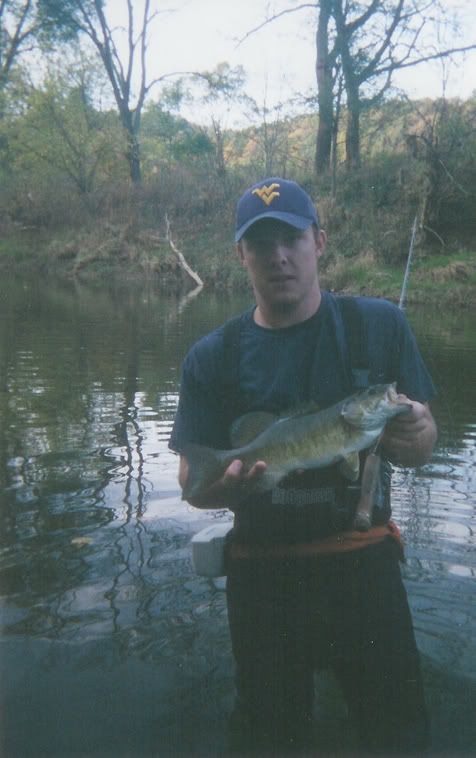 Before Evan and I we were even able to go, I heard a radio interview with Frank Jernejcic, the northern WV fisheries biologist for the WVDNR. He confirmed what we had heard from others, that smallmouth bass had returned to the creek, and some were well above average size. This excited us more as our agreed upon day to fish neared. Frank talked mainly about the fish in his interview, alluding to the fact that they had come from natural sources, be it unaffected tributaries, or from swimming up the creek from the Monongahela River. The DNR's full restoration plan can be found
here
, although some of the dates of stocking may be adjusted since natural recolonization seemed to be much better than anticipated.
A few days later, when we were finally able to make the short trip to the western side of the county, Evan and I confirmed that the creek is recovering well. I saw literally thousands upon thousands of minnows schooling together in the shallows. I was able to catch a handful of smallmouth, a large redbreast sunfish, and one spotted bass. The bass below was my first since the kill, a beautifully marked 11-12" smallmouth that took 2.25" rapala in my favorite color, tennessee shad.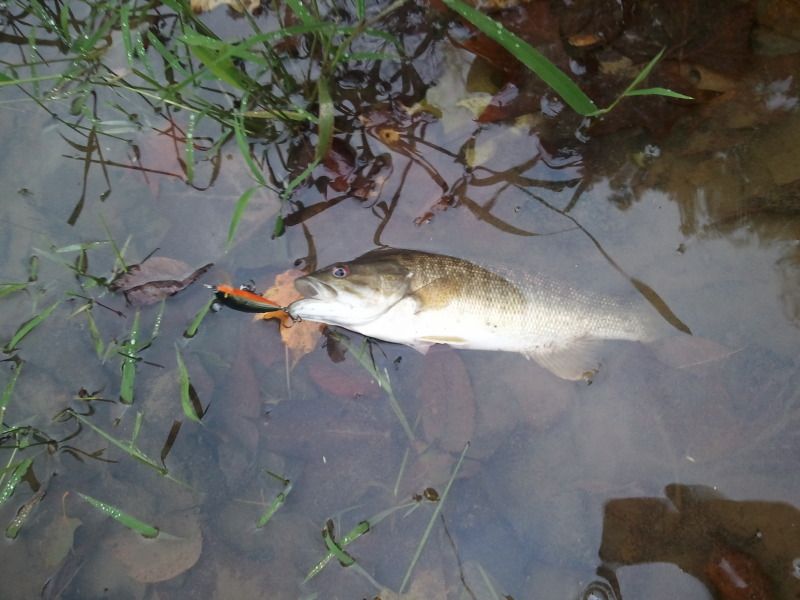 Evan caught a few bass and a large sunfish, and was able to spot a small musky as well. I think I beat Evan on numbers, as I grew weary of casting heavy flies and switched to trusty spinning tackle. He gets the award for perseverance with the fly rod, taking his fish on a deceiver fly pattern (see below).
Sure it stinks this creek went through this terrible fish kill, but it is interesting and encouraging to see that it is recovering well, and ahead of schedule. Lets all hope the mussel populations recover as well as the fish populations have. They could end up being the real losers through this whole ordeal, and many species were rare, and their complex life cycle and habitat requirements make restoration all that much more challenging.