Chad and I took off this past Friday and Saturday in search of trout. Sure enough our trip started with a breakfast feast at the Casselman Inn before braving the cold. We even had to traverse a little leftover snow to get to Grantsville, MD on I-68.
After our big breakfast, getting bundled up, and somehow managing to get into our waders with the extra bulk from breakfast and all the layers, we started fishing the Cassleman River delayed harvest area. For me it started off slow, but I finally found a pod of rainbows willing to take a very slowly presented wooly bugger. I ended up catching about 10 standard sized rainbows before my toes got numb, and I walked back to the car to warm up. Chad caught a few fish, but didn't luck into a pod of fish like I was able to find.
First of the year - even if a little guy.
We decided we would then warm up in the car and head to the Savage River trophy trout area below Savage Reservoir. The water here, like Cassleman, was low, clear, and cold. There was a nice hatch of winter stoneflies happening here, but neither of us noticed any feeding trout, and even deep nymphing stonefly patterns proved unproductive. I came across a deep pool and decided to dredge a large olive woolybugger as deep as I could in hopes of enticing the wild browns that inhabit Lower Savage. On my third or fourth cast, I felt a thump and set the hook. The cold water temps made it easier than normal to land this average, but healthy brown trout.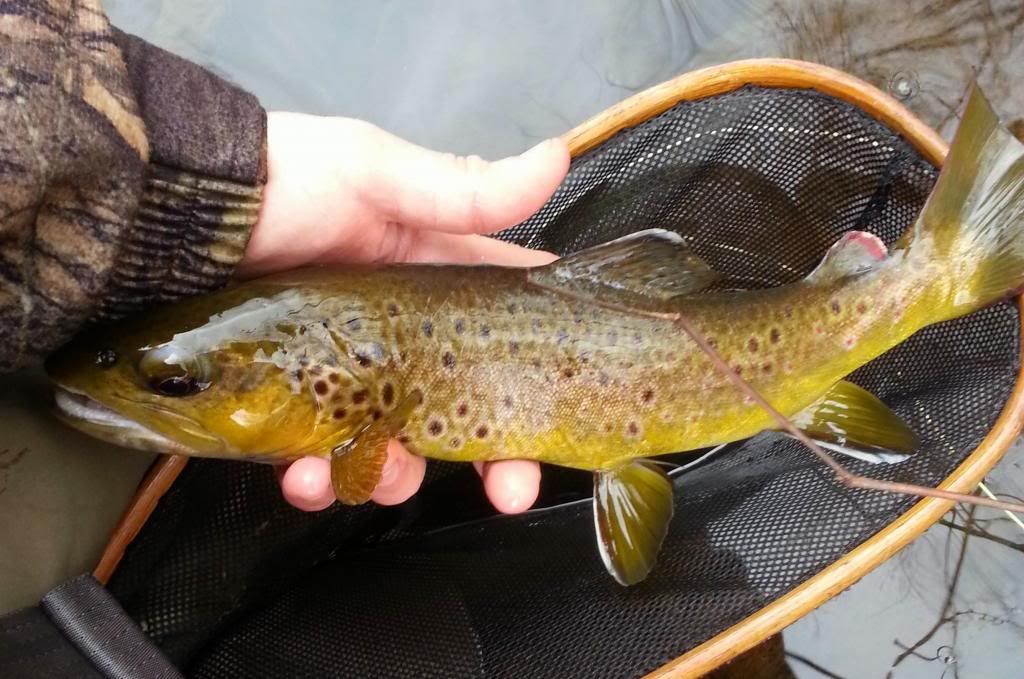 13" Wild Savage brown trout
I continued working the same pattern through the hole. After moving to the opposite bank, I was stripping my line in, and had my fly to within a few feet of my rod, in some slow-moving water about 2 feet deep. I watched as a large brown trout swam out from under some logs toward my fly. I paused it, and the fish calmly sucked the fly down right in front of me. I set the hook and quickly landed one of my best Savage River browns ever, a colorful 17" specimen.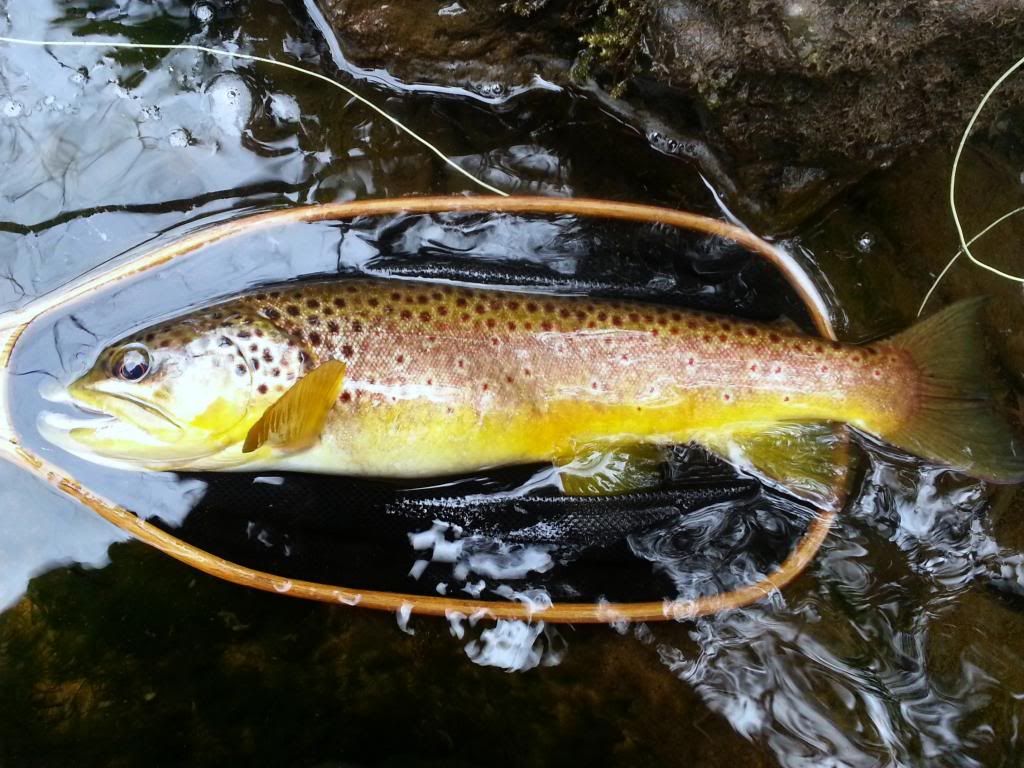 One of my largest Savage River brown trout.
That was the last fish I caught there, as we needed to head to our Chad's camp in Elkins for the night, but that fish alone was worth the whole day of fishing for me.
Saturday morning was cold, crisp and cloudless
We fished Shaver's Fork in Bowden some during the day Saturday with limited success (I caught 2, Chad caught 3). We culminated our trip with a feast at CJ Maggies in Elkins that evening at the annual WVAngler.com dinner. The food was great, and although there were tons of door prizes, neither Chad or I was lucky enough to snag one. Oh well. It was a great trip, and was fun to get outside and catch a few fish!